Great Train Journeys
Or at least, some that I have done and would recommend. Trains are by far my preferred way to travel, and going to countries with great train systems is, for me, a wonderful experience. A lot of the world is really great for this: almost all of Europe, along with Russia (the whole Russia, not just the European bit), China and Japan are very much "train countries".
The Trans-Siberian, Russia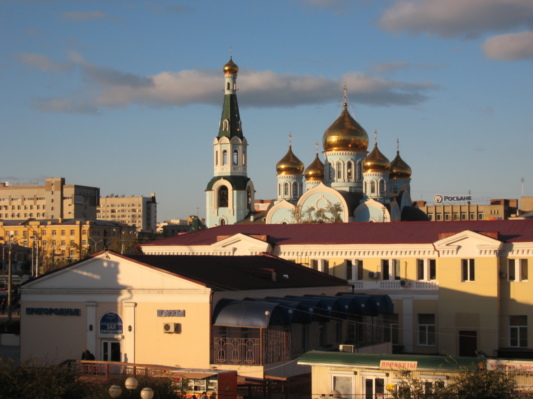 This has to be one of the most epic train journeys there is - certainly in terms of distance and duration. There are multiple variations of the Trans-Siberian; a common one is to get as far as Ulan-Ude, and then drop out of Siberia, down through Mongolia and on into China to Beijing. I did things somewhat differently: I started out in Vladivostock and made my way towards Moscow. If I'd just stayed on the train for the whole 10,000km, it would have taken me almost a week solid.
Love trains as I do, a whole week just on a train is not quite my idea of an exciting trip. Thus I stopped at numerous places along the way, in general doing a night on the train, a night in a hostel or hotel, a night on the train again, and so on. More interesting places got a couple of nights (or at least, places I guessed would be more interesting). This worked out very well in a couple of ways: for one, because there's a lot of interesting places to experience that could not in any way be appreciated by passing through them on the train, but secondly because it meant I got to meet lots of different people along the way.
While I've seen people get by on the Trans-Siberian route with barely a word of Russian, if you're travelling solo - as I was - and speak none at all it's possibly going to be a lonely experience, especially if going from east to west, rather than the more frequently travelled west to east route (I consider meeting everyday people more interesting than meeting other backpackers, though :-)). My Russian was hardly great then - it improved greatly over the journey, though, and things got more and more fun as it did. I highly recommend investing some time in learning at least the basics, because it opens so many doors. There were restaurants I had nice food at that had no English menu and the staff spoke entirely to me in Russian, and most likely spoke no English. They can cope with badly spoken Russian though. On the train, it was a mixed bag, but meeting people who didn't know hardly a word of English was very common (I did meet some who spoke English very well, though). I was very happy to have the language skills to be able to communicate at least a little with them.
No, it's not exactly scenic for the majority of it, and you'll see a lot of trees. It has it's nice bits though; the section between Ulan-Ude and Irkutsk goes for hours by Lake Baikal, and is really very pleasant. This is really a journey for coming to learn what "a long journey" really means and for experiencing the intrigue and, in many cases, kindness of the local people you'll meet.
And is it a once in a lifetime experience? Yes, if you can only do it once. But I'd gladly do it again; between the choice of places to go, routes to take and - most important to me - the uncontrollable factor of the different people I'll meet, it'll be a new experience each time.
The Tibet Railway, China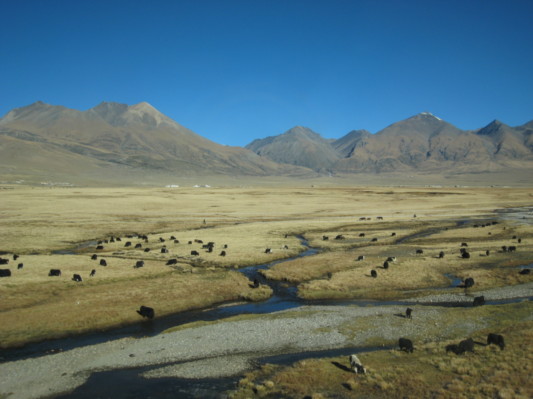 The views through the window while travelling along the highest railway in the world range from beautiful in the pretty sense to beautiful in the haunting sense. Some of the landscapes left me wondering if I was really still on planet earth. The day spent glued to the window, from 8am until the sun set around 12 hours later, flew by. Vast plains, herds of yak, mountains, rivers, lakes, permafrost, ice, snow - the scenery along the way changed before my eyes, giving me new things to enjoy hour by hour.
I highly recommend arranging to have as many daylight hours as possible on the section approaching or heading away from Lhasa. For me, that meant a journey starting at 8am in Lhasa, giving me the whole day to enjoy the views on the Tibetan Plateau. Travelling that last section overnight and arriving in Lhasa in the morning, or leaving Lhasa on an evening as the sun is about to go down, would be missing out on so much.
Yes, the restaurant car food is average and the English translation on the menu is a bit special, but otherwise it's a very comfortable journey. Do take care of the risk of altitude sickness if heading to Tibet, though (heading away from it is perhaps not so bad). The incredible scenery makes it all very, very worthwhile, though.
Interlaken - Jungfraujoch, Switzerland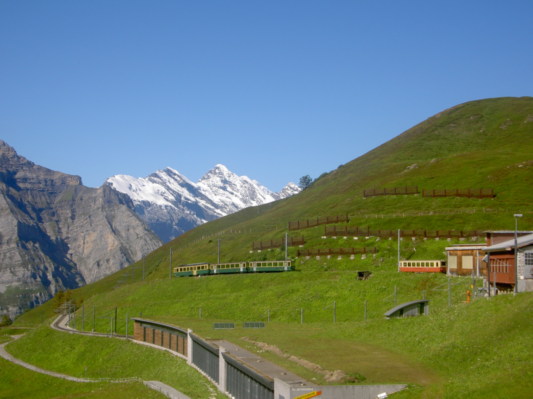 This journey is both easy to make and beautiful. It reaches up to the highest railway station in Europe, which is actually underneath a visitor complex offering, on a clear day, superb views. There is access to the snow year round, with various activities including a snow hike out to a remote cafe.
Much of the journey itself is beautiful, though part of it is through a tunnel carved through the mountain. There are actually two ways to do it, and it's possible to go up one way and down the other. In both cases, you start at Interlaken, but depending which half of the train you board you'll then end up in Wengen on Grindelwald. From either of these, you can take trains that end up in Kleine Scheidegg, and from there you catch the train up to Jungfraujoch. They are both pretty and worth seeing; I have a slight preference for the way via Wengen. Wengen also makes a nice base, for what its worth, and means you've got an hour's time advantage on a morning to head up to the mountain.
Like just about everything in Switzerland, this one costs a bit to do. It's worth doing it on a day with good weather, but of course if there have been several bad days followed by a good one, everyone will be doing it and the trains will be very crowded - you may well have to stand. Thus it pays to set off early at such times, or perhaps wait a day if the forecast looks like it is set to be good for a while. You'll want to stay at the top and enjoy it for a good while anyway. :-)
Myrdal - Flam, Norway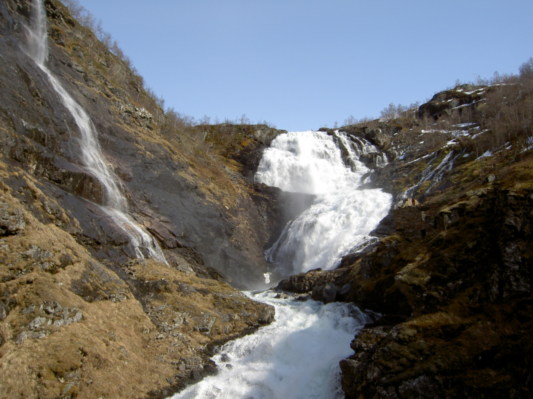 It's the steepest non-rack railway in Europe, but my nerves were calmed when I was told it has no less than six separate braking systems. Not that I've have had time to worry when the views were so enjoyable. The railway snakes its way down Myrdal, up in the mountains, down to sea level, with the station lying literally minutes from the shores of a beautiful fjord.
Along the way, it stops at a waterfall, and there's chance to get off for a few minutes to take photographs. The views from the top start off rugged and snowy - if you do it around May at least - but gradually things get greener as you go down. There are tens of little streams and smaller waterfalls to be glimpsed through the windows.
I've mentioned starting at the top mostly because Myrdal is also a station on the line from Oslo to Bergen, thus providing easy access. There is also access to Flam by boat - something I very highly recommend doing in one direction or the other. The whole circuit - the train from Bergen to Myrdal, the train down to Flam, a boat to Gudvagn and then a bus back up the mountain - is known as Norway In A Nutshell. It's touristy, but beautiful. I found staying in Flam, heading down there on an afternoon and getting the first boat out in the morning, was a good crowd beater and meant I get to enjoy the fjord by evening too.
Fujikyu Railway, Japan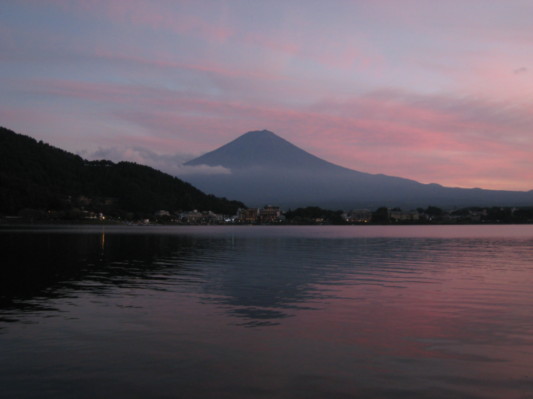 This railway goes from Otsuki, which can be reached on a direct train from downtown Tokyo, to Kawaguchi-ko, a small town on the shores of Lake Kawaguchi. From there, you can enjoy excellent views of Mount Fuji, most easily from the railway station, but more idyllically by either taking a short walk for a while along the lake shore heading anti-clockwise, or by taking a cable car up to an observation point (the walk down from this point again is very nice). If you've time, I especially recommend taking the walk all the way around the lake, which offers views of Fuji from various angles, as well as the chance to see some very nice gardens. There are, thankfully, vending machines serving cold drinks the whole way around too. I did it in 4-5 hours, if memory serves me correctly.
I was blessed with wonderful weather on the day I spent around Kawaguchi-ko, but it was raining both times I did the railway journey. Thus I can't vouch for how good the railway journey itself is, but from what I could see through the haze it would be pretty on a good day. Certainly having views of Mount Fuji from the railway station at one end is a good sign! The train I went on was pretty spacious and - this being Japan - had vending machines. :-)
Oslo - Bergen, Norway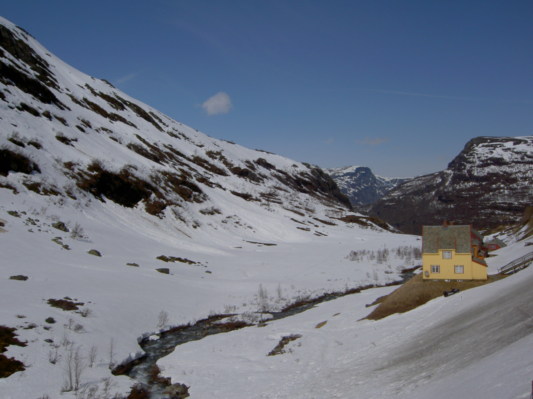 Another entry from Norway, and this time it's just one of the country's normal railway lines rather than anything particularly touristy. It certainly packs quite a punch though, and even as late as May a lot of the journey passes through a snowy wonderland. The trains are very comfortable, to the point that I walked into a carriage and then walked out again thinking I'd accidentally ended up getting on to a first class carriage. Turned out that no, I hadn't; second class really is that nice.
It starts and ends at sea level rather than in the mountains, given both Oslo and Bergen lie by the sea. But over the course of the eight hours, it gains and loses hundreds of meters in altitude. There are various interesting points along the way, including Myrdal, where you can connect to the railway to Flam, which I mentioned above. Bergen itself is also very pretty on a good day, and most certainly worth a visit too. There's also a sleeper train covering the route, though of course you miss out on the views doing it that way. It's a good option for one direction, though, so as not to spend two full days of your break on the train (there's no other routes heading on from Bergen, so at that point your only option is boat or bus).
Sicily - Naples, Italy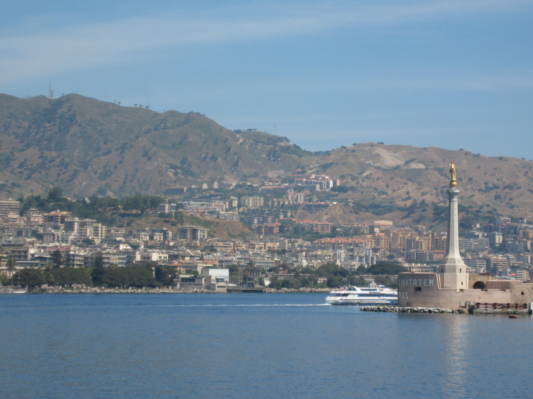 This railway hugs the coast for a lot of the way, which is rather pretty. The train also gets shunted onto a boat for part of the journey, which is something of a novelty too. Depending on where in Sicily you start, there are also views of Mt Etna along the way (start from Catania for this; the views of the volcano are between Catania and Messina).
While I've marked Naples as where this journey ends, it's more a case of "that's how I did it" than anything else. Naples itself was, for me, a hard place to really like in general, even if I did have the best pizza of my life there. That aside, it's filthy and nobody knows what traffic laws are. Thankfully, there are lots of nice places around Naples, and Pompei and Mt Vesuvius are very much worth seeing. Naples is be a convenient base for both, but I suggest checking out other options.